Biography

Jason Stearns has steadily built a reputation as a distinguished interpreter of the most unique and challenging roles in the dramatic baritone repertoire. Over the past two years, Mr. Stearns has made impressive appearances with the Metropolitan Opera (Barnaba in La Gioconda, where he appeared on less than one hour's notice), the Lyric Opera of Chicago (Kurwenal in Tristan und Isolde), the Savonlinna Festival (title role in Der fliegende Holländer), and the Los Angeles Opera (Biterolf in Tannhäuser and the title role in Britten's Noye's Fludde, both under James Conlon).

In the summer of 2009, Jason Stearns sang the title role in Macbeth at Palacio das Artes in Belo Horizante, Brazil, followed by Monterone in Rigoletto under Maestro Conlon at the Ravinia Festival. The baritone opened the 2009-2010 season covering Scarpia in Luc Bondy's new production of Tosca at the Metropolitan Opera, before his debut at Den Norske Opera in Oslo, as Jack Rance in La fanciulla del West. He later appears as the High Priest in Samson et Dalila with Bob Jones University and returns to the Metropolitan Opera to cover the title role in Der fliegende Holländer and Stankar in Stiffelio.

In the 2010-2011 season, Jason Stearns makes returns to Den Norske Opera and the Metropolitan Opera.

In the 2008-2009 season, Mr. Stearns appeared at the Metropolitan Opera as Monterone in Rigoletto and covered Donner in Das Rheingold. At Lyric Opera of Chicago, in addition to his role and company debut as Kurwenal, he sang matinee performances of Tonio in Pagliacci and covered Alfio in Cavelleria Rusticana.

The baritone's 2007-2008 engagements included Don Carlo in Ernani with Opera Boston, and Veit in Ullmann's Der zebrochene Krug at Los Angeles Opera, where he also covered Kurwenal in Tristan und Isolde.

Jason Stearns was the First Prize winner of the first annual Chester Ludgin American Verdi Baritone Competition. Other recent notable engagements include the High Priest in Samson et Dalila opposite Denyce Graves at Florida Grand Opera, Lohengrin with the Leipzig Opera, Tonio in Pagliacci with Boston's Chorus Pro Musica, Scarpia in Tosca with Summer Opera, and the Mill Foreman in Jenufa at Los Angeles Opera.

His European debut was as Di Luna in a new production of Il trovatore with Musiktheater im Revier in Gelsenkirchen in Spring, 2006. Mr. Stearns has also appeared with Washington National Opera as Nikitisch in Boris Godunov, the King in Le Cid, the Herald in Otello, and Westmorland in Sly.

With the National Symphony in Washington, D.C., Mr. Stearns recorded the baritone solos in John Corigliano's Of Rage and Remembrance, which won a Grammy Award in 1997.

---
Repertoire

Critical Acclaim

Metropolitan Opera – La Gioconda

Barnaba, the villain with a heart of ice, should have been Carlo Guelfi, but illness forced the last-minute substitution of Jason Stearns. Jason Stearns? He had once served in the Met chorus and undertaken tiny solos. In spite of a few pardonably rough patches, one had to admire his firm, wide-ranging baritone, not to mention his steadfast bravado.
-Martin Bernheimer, Financial Times


Opera Boston – Ernani

Jason Stearns as Don Carlo showed off a smooth and commanding baritone.
-Jeremy Eichler, The Boston Globe

Though difficult to believe, the baritone of Jason Stearns was even larger in size. It is a huge, dark voice, with a powerful cutting edge. At full volume, it can best be described as a force of nature. Scaled for a much larger theater, it nearly dislodged the first few rows of the house. But he also sang with a fine legato, and, in the lyrical moments, nuance. Judging from this performance, he seems destined to be an important, Verdi baritone.
-Ed Tapper, The Edge

Baritone Jason Stearns sang a booming Don Carlo (crowned Carlo V in the third act, and rocking some Prince Humperdinck hair) with one of the loudest voices that this Bostonist has ever heard emitted from an unamplified human mouth.
-C. Fernsebner, Bostonist.com


Summer Opera Theatre - Tosca

…and only Jason Stearns (Scarpia) so inhabited his role that his singing "disappeared," in a sense…

Stearns was the standout. He made every smirk and shrug tell, but he was more than a cardboard villain; you saw the wheels turning in Scarpia's head as he plotted, and in his reflective moments he seemed to be genuinely searching for the source of his evil. Vocally, he was impeccable all evening, with perfectly centered sound, and he made the Act 1 malediction "Va' Tosca" both thrilling and terrifying. His performance was a triumph.
-Robert Battey, Washington Post, July 16, 2007

---
Powered by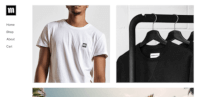 Create your own unique website with customizable templates.
2067 Broadway, Floors 4 & 5 | Between 71st & 72nd Streets | New York, NY 10023